"Increasing Customer Service is Not an Option it's a Must"
As I was Driving to the office today, I was listening to the Harvard Business Review podcast. The podcast provides some of the best tips for business owners. In real estate, if you are a Realtor, Broker, Owner, or all of the above you own and operate a business.  So I listen HBR to learn how to increase the level of service to the customer.
Many of the things the professor talked about sounded familiar. Over the years I have attended many real estate training events and some non-real estate sales training as well. He spoke about the following:
Listening to the customer to better understand the customer's needs.

Efficiently responding to the needs of the customer to better provide the service in our case.

Resources should be provided to the customer, so they better understand the service and the process.

Data can be used to help them understand the market and why they should value your opinion

Adapting or modifying the service to the customer's needs.

Creating or finding several options and allow them to decide on the solution they prefer.

Effective solutions should be provided. Don't offer what everyone else does.
Offer Your Customer More Options
The points above were the key points. The Professor put most of the weight behind offering the customer more options. Driving to the office, I was thinking of how this translates into real estate. I felt that some of the similar situations we deal with as real estate agents every day are and we fail to notice where we need to improve, and we often opt to take the easy road and blame it on the customer not being motivated to make a purchase or sell their house.
Don't Blame the Customer, Take Responsibility for a Successful Transaction
I'll give you an example regarding a homebuyers real estate agent.  
Example 1
The customer walks in and wants to buy a home. They get pre-approved, and they start searching for a home. Jane and John, the buyers, just can't find what they want and they send Agent 007 a list of the homes they like they found on zillow.com and realtor.com. Agent 007 tells them Jane and John "You can't buy this home because it doesn't fit your financing terms." For weeks Jane and John send agent 007 more homes, and Agent 007 keep telling them for one reason, or another they cannot buy those home. Agent 007 keeps sending them houses for weeks and months homes they do not want to buy. Eventually, Jane and John decide to find another agent. Agent 007 now feels the customer is not motivated to purchase and unrealistic. The buyers think agent 007 is impatient and wants to sell them what he wants and is not listening to their needs. So Agent 007 decided to ignore their calls since he felt they were not motivated to buy a home. So they meet agent 009
Example 2
Jane and John visited an open house on 123 main street. They meet agent 009. Agent 009 Listens and takes notes as he speaks to Jane and John. Agent 009 decides to search on MLS together and show them the actual inventory on the market and why those homes on Zillow.com and Realtor.com are not in their criteria. Agent 009 offers an MLS app so they can search his MLS with the most up to date list of homes. As agent 009 shows them why they can't buy those homes he offers them some several solutions:
"Let's speak to the lender and see how much more you folks can qualify for."
"Here's some similar homes in other neighborhoods in your budget."
"Let's find some homes in your budget in the right neighborhood."
Which one of these options would you prefer Mr and Mrs?
Jane and John like that Agent 009 Listened to their needs, provided resources and data, several solutions, and they got to decide on what the next step was to homeownership.
We Must Build Trust With Our Customer
As real estate agents new and experienced we make the mistake of thinking that we know everything and that customer that has only known you for days, weeks or months should trust you because you are great. Since we can't adapt to our customer's needs, we decide to create all these ideas in our head as to why they are not buying or having signed an offer. I've heard it all. From "they are not motivated," "they are unrealistic," "they are not serious about buying," "they don't want to buy" and so on. First of all, if they went through the whole process of getting pre-approved, it's unlikely they do not want to buy a home. Either they need better direction, more resources, other options, data, more positive emotions, better communication, Trust. It's up to you as a great salesperson to find out what is the problem. By asking better questions and listening attentively, you can diagnose the problem and provide several options.
Problem Solving is the Key to Customer Service in Real Estate
Once you start blaming it on on the customer, you lose the opportunity to learn and grow as a professional real estate agent. So stop blaming the customer and focus your energy on finding solutions and providing options before you come to conclusions. Problem-solving will lead to better customer service which leads to more sales and referrals.
Ricardo Ponce, Real Estate Broker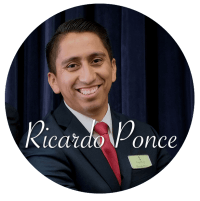 Ricardo Ponce, Real Estate Broker
Ricardo Ponce is managing partner and Broker at Ponce & Ponce Realty, a real estate sales company that helps new and experienced real estate sales professionals increase their sales and marketing skills to provide a higher level of service to families buying and selling homes. Creating business plans for professionals to reach more customers in the competitive real estate environment.
Contact Ponce & Ponce Realty
Call us any time!  (909) 498-4030 | We are here to serve you. | Hablamos Español
We understand that buying a home can be a bit intimidating, and that is why we always strive to make your experience a pleasant one.
Request a Call
Simply fill out the form below, and we will contact you right away!